We are proud to be featured in Croatia's leading magazine, 'Gloria' for their 'Life after the Corona virus' themed issue. An english translation can be found below.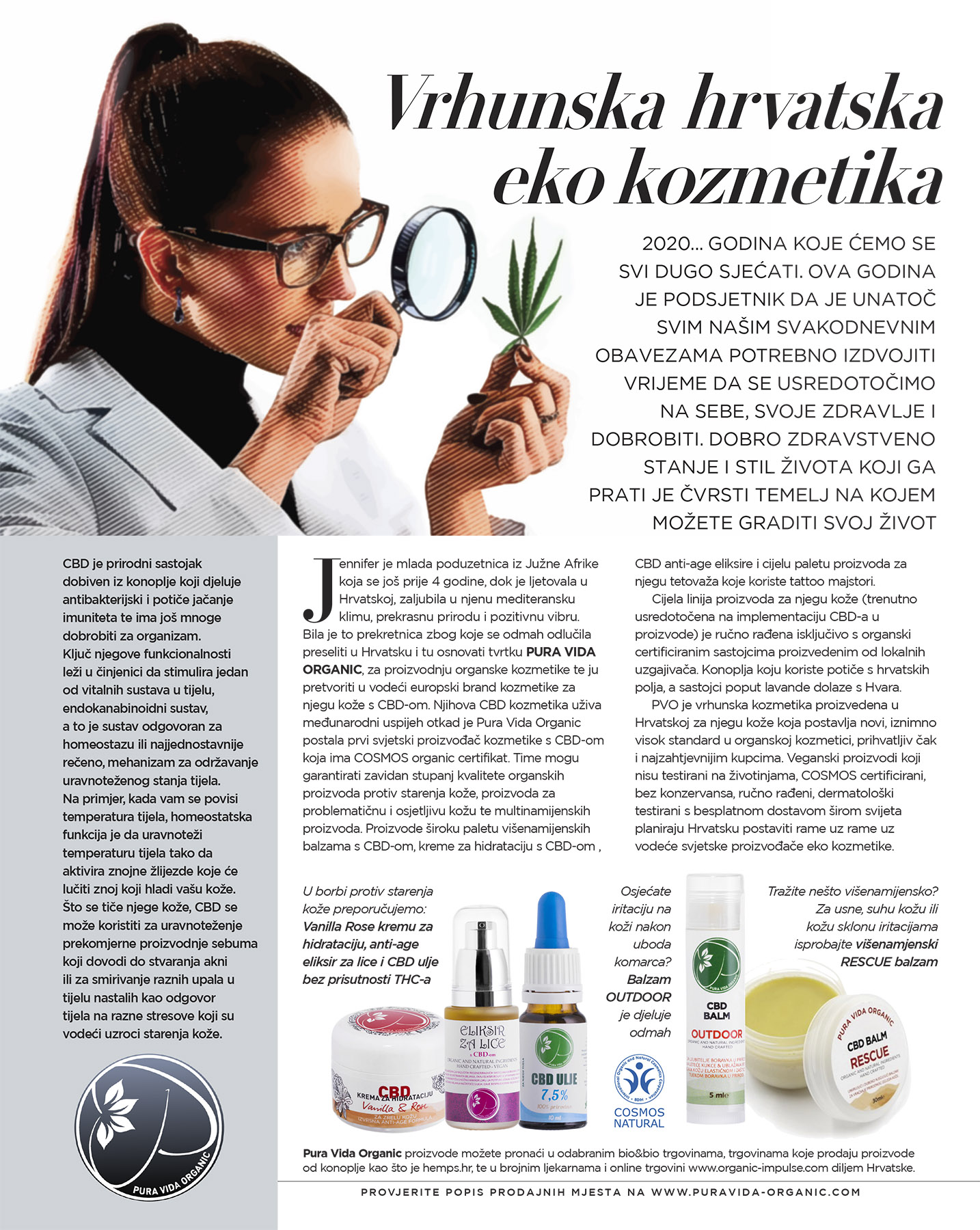 2020. A year we will all surely remember. It has more than anything humbled us to our true fragility, and susceptibleness to even the smallest elements of nature. A reminder that among all of our daily responsibilities to take the time to focus on ourselves, our health and our wellbeing. Good health and the lifestyle that accompanies it is one asset you can truly be proud of achieving. A solid foundation to build your life upon.
If there is one decision Jennifer, the successful owner of Pura Vida Organic is grateful for making, it is towards a healthy lifestyle – including a plant-based diet, yoga and environmentally sustainable living.
Jennifer is a young female entrepreneur from South Africa who chose to move her CBD skincare company – Puravida Organic – literally translating to 'Pure Life' – to Croatia 3 years ago. She fell in love with Croatia, its Mediterranean climate, beautiful nature and easy-going vibe immediately while on holiday 4 years ago. It was a decision she made in a heartbeat thereafter to move to Croatia and transform her organic cosmetics company into a leading CBD skincare brand in Europe, combining all things natural under one brand.
All of their skincare (currently focussed on integrating CBD ) is handmade using organic certified ingredients sourced from local farmers. Their Hemp is grown biodynamically in fields outside of Zagreb, with ingredients like Lavander coming from the Croatias own island of Hvar.
Pura Vida Organic has since become the first Cosmos organic certified skincare producer worldwide, an incredibly high bar to achieve in organic cosmetics, producing everything from CBD multi-purpose balms, to nutrient-dense CBD moisturisers, CBD Anti-aging elixirs, and even a CBD range for tattoo artists and tattoo aftercare.
Organic cosmetics and natural alternatives was a calling that naturally presented itself to her, having struggled with Eczema and sensitive skin from a young age. Nothing seemed to not aggravate her hypersensitive skin, until one day she tested a homemade CBD balm on her skin after hearing of the many benefits of the newly discovered CBD.
CBD is a natural antibacterial and immune-boosting ingredient, derived from the Hemp plant and promoting an extraordinary amount of health benefits. The key to its diverse functionality lies in the fact that it supplements one of the bodies most vital systems – The endocannabinoid system – a system responsible for homeostasis – or simply put, the balancing mechanism of the body. For example, when you overheat, it is a homeostatic function to balance your temperature by triggering sweat glands and cool you down. In terms of skincare, CBD can be used to balance the bodies overproduction of sebum – leading to acne, or to calm inflammation – which is the bodies response to certain stressors, and a leading cause of signs of ageing in the skin.
Her companies vision is to provide consumers like herself with an organic, natural alternative to mainstream cosmetics and skincare, using only essential and potent ingredients from nature to get the job done.
Their premium yet affordable skincare sets a new, incredibly high standard in organic cosmetics, appealing to even the most selective of shoppers. Vegan, cruelty-free, Cosmos organic certified, preservative-free, hand-made, minimalist, and dermatologically tested with free worldwide shipping, they plan to put Croatia on the world map as a goto organic skincare brand.
Looking to the future, they plan to continue working with local farmers with fair trade practices, move to entirely plastic-free and sustainable packaging, and growing their aspiring and lively work-force from Croatia to provide as many jobs as possible to those who need it most.
All this time indoors has shown us what is important in life, being part of a strong community of wonderful people, a healthy lifestyle, and a connection with nature, and in Croatia, we are blessed to have all of these in abundance.